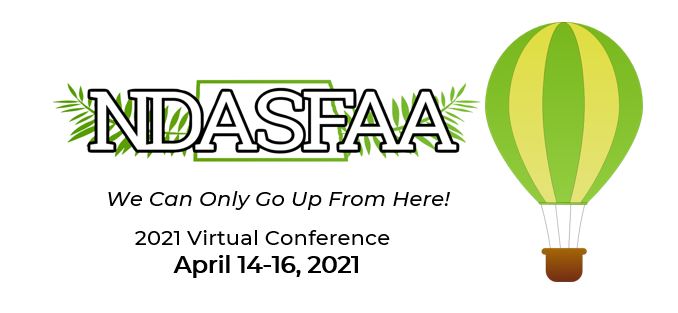 Registration
Registration will be by campus/organization. Only one registration by member campus/organization required. Invitations to register will be sent by email.
Campus/Organization Registration Cost= $50.00
Philanthropy
Donations to the 2021 Philanthropy Project, ND Dollars for Scholars will be accepted through Friday the 16th. Every dollar helps and 100% of funds raised goes toward student scholarships. Check out this video featuring two past scholarship recipients!
Donations can be made online. To donate by check please contact Staci Holzheimer.
Log into ND Dollars for Scholars
Click on "Donate Now" in the upper left bar and then the blue "Click to Donate" button at the bottom. This will take you to a secure donation site
Select your donation amount and either monthly or one-time payment, and then click on "Continue"
Enter your name and email address, plus, in the box to select the "Scholarship Fund" to donate to, please enter "NDASFAA" so that we can track our project's donations.
Click on "Continue" to enter your payment information!
Agenda
Wednesday, April 14th
9:00 – 12:00
NDASFAA Board Meeting
9:00 – 4:00
Committee Meetings
9:00 – 10:00
Conference
Lindsey Benson, Co-Chair
Laurie Weber, Co-Chair
10:00 – 11:00
Diversity & Multi-Cultural Initiatives
Brenda Zastoupil, Chair
11:00 – 12:00
Electronic Initiatives
Becky Nielsen, Co-Chair
Crystal Tangsrud, Co-Chair
1:00 – 2:00
Awards & Membership
JaLee Lynnes, Co-Chair
Kristen Kihle, Co-Chair
2:00 – 3:00
Awareness
Staci Holzheimer, Co-Chair
Tammie Reger, Co-Chair
3:00 – 4:00
Professional Development
Marcia Pritchert, Co-Chair
Judy Hager, Co-Chair
Thursday, April 15th
10:00 – 10:15
Welcome, Housekeeping
Marcia Pritchert, NDASFAA President
Lindsey Benson, Conference Co-Chair
10:15 – 11:00
Keeping the Air In Your Balloon
Brenda Hicks, NASFAA Chair
11:00 – 11:10
Break
11:10 – 11:15
Philanthropy Project, ND Dollars for Scholars
Staci Holzheimer, State Director, ND Dollars for Scholars
11:15 – 12:15
Break Out Sessions
Conflicting Information
Pam Gilligan, Training Officer, Federal Student Aid
Work Study Round Table: Discussing the good, the bad, and the ugly!
Tammie Reger, Financial Aid Administrator,
North Dakota State University
12:15 – 1:00
Break/Lunch
1:00 – 2:00
NDASFAA Business Meeting & Awards
–Business Meeting Agenda
–Business Meeting 2020 Minutes 11.23.2020
-Treasurer's Report
–2021 Years of Service
2:00 – 3:00
Top 10 Compliance Issues
Pam Gilligan, Training Officer, Federal Student Aid
3:00 -3:15
Break
3:15 – 3:30
Vendor Update
Bank of North Dakota
3:30 – 4:30
NASFAA Update
Brenda Hicks, NASFAA Chair
7:30 – 8:30 pm
Social & Retiree Recognition
–Retirement Biographies 20-21
Friday, April 16th
8:30 – 9:15
NDUS State Programs Update
Brenda Zastoupil, Director of Financial Aid,
North Dakota University System
9:15 – 9:45
RMASFAA Update
Angela Karlin, RMASFAA President-Elect
9:45 – 9:55
Break
9:55 – 10:00
Philanthropy presentation, ND Dollars for Scholars
Brenda Zastoupil, DMCI chair
10:00 – 11:00
Fraud Detection and Prevention
Jeff Kenney, Assistant Special Agent in Charge,
Office of Inspector General, US Department of Education
https://youtu.be/ly4t4LF1N3Y
11:00 – 12:00
Federal Update
Pam Gilligan, Training Officer, Federal Student Aid
*Green text indicates conference material linked or Zoom meeting link.
Thank you to our sponsors!