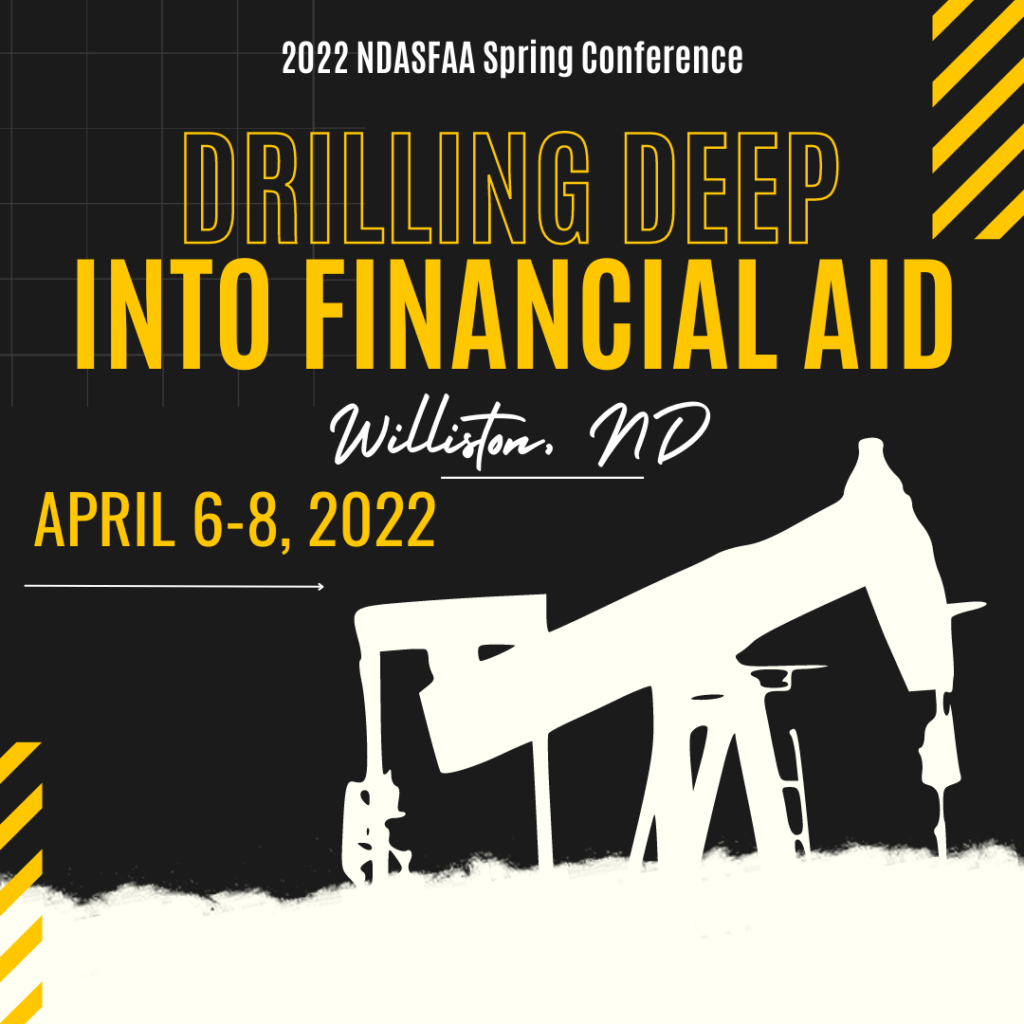 Location
A big thanks to Williston State College for hosting this year's conference! All scheduled conference events will be held on Williston State College's campus. Parking is free. We recommend parking in lot V1 starred in yellow on the map here.
1410 University Avenue, Williston, ND 58801
Building: Stevens Hall
Room: The Well
Philanthropy Project
NDASFAA is proud to partner with the Family Crisis Shelter (FCS) in Williston to fill laundry baskets full of needed supplies for North Dakota families. Monetary donations can be made online at https://www.familycrisisshelter.com/donate.html. Please put NDASFAA in the Organization field when donating online. Donations will also be accepted at the 2022 NDASFAA Conference. Items needed listed below:
Laundry Baskets (high demand)
Body Wash and Shower Puffs
Shampoo and Conditioner
Deodorant
Disinfectant Cleaning Wipes
Paper Towels
Toilet Paper and Facial Tissue
Socks for women and children
Learn more about FCS by visiting familycrisisshelter.com/what-we-do/ or see our flyer here.
Schedule
*Yellow text indicates links to presentation materials
Wednesday, April 6
8:30 – 10:00
NDASFAA Board Meeting
10:00 – 12:00

Catching Up with Campus Connection (NDUS Schools)


Crystal Tangsrud & Sherry Bisek
CTS, FA Business Analysts
11:00 – 12:45
Corporate Support Setup
12:00 – 1:00
Registration
1:00 – 1:20
Welcome
Judy Hager, NDASFAA President
Dr. Bernell Hirning, President, Williston State
1:20 – 2:30

Federal Update

(login required)
Federal Student Aid
2:30 – 2:45
Break/Exhibitors
2:45 – 3:30

Supervisory Roles and Navigating Conflict


Tanya Vachal, Human Resources Director, Williston State
3:30 – 3:45
Philanthropy Introduction
DMCI Committee
Family Crisis Shelter
3:45 – 4:45
Diversity and Inclusion
Bead Exercise – Melissa Casanova
Diversity Panel – Scott Skaro, Lindsey OneBear,
Kim Weismann; Panel Moderator – Brenda Zastoupil
4:45
Dinner your own
Thursday, April 7
7:30 – 8:15
Breakfast
8:15 – 9:15

Securing Financial Aid Data


Crystal Tangsrud & Sherry Bisek
CTS, FA Business Analysts
9:15 – 9:45

NDUS State Programs Update

–

Handout


Brenda Zastoupil, Director of Financial Aid, NDUS
9:45 – 10:15

RMASFAA Update


Becca Dobry, President-Elect. RMASFAA
10:15 – 10:30
Break/Exhibitors
10:30 – 11:30

Re-Entry to Repayment


Mike Lubben, Senior Vice President, Inceptia
11:30 – 11:45

Corporate Support Update


Bank of North Dakota
11:45 – 1:15
Lunch/NDASFAA Business Meeting –

Agenda

1:15 – 2:45
Addressing Special Circumstances Through
Professional Judgement (PJ)
Laurie Weber, Director, Minot State University
Panel – Chris Meek, Kelsey Walters, Becca Dobry
2:45 – 3:00
Break/Exhibitors
3:00 – 3:45

Listening

–

Handout


Jim Sturm,
Director of the Looyenga Leadership Center, Minot State
3:45 – 4:30
Birds of a Feather
Moderator: Matt Sanchez, Financial Aid Director
North Dakota State University
5:30 – 6:30
Social
6:30
Banquet/Awards
Friday, April 8